Introduction to Nevada Traffic School
Driving is dangerous. Every single time you get behind the wheel you are risking your life. No matter how safely you drive, you have no control over the decisions that other drivers make or the conditions of your driving environment. Accidents happen, it's a fact. However, there are ways to minimize your risk while in the road, and Nevada traffic school courses are designed to teach them to you.
Did you know that Nevada ranks in the top ten states with the highest crash rates in the country? As a driver in Nevada, your risk behind the wheel is heightened. According to the Nevada Traffic Crashes 2010 Report, the top vehicle factors that contribute to traffic crashes in the state are: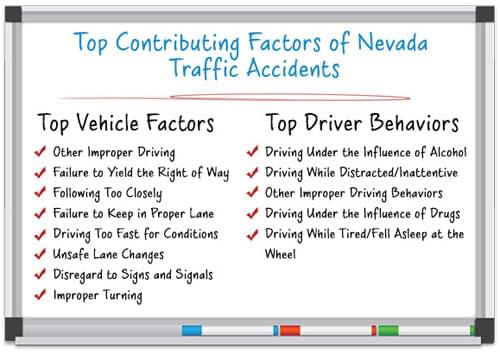 The behavior choices listed above can all be prevented with proper training. The State of Nevada understands this. That is why taking a Nevada traffic school course, which teaches you how to avoid the dangerous behaviors listed above, is so Beneficial. By completing one of these courses you can remove three points from your Nevada driving record, fulfill a court plea-bargain agreement, get an auto insurance discount, and, of course, learn to be a better, safer driver.
What are the Reasons for Taking Nevada Traffic School Courses?
There are a few different reasons that someone may complete traffic school in Nevada. These reasons include:
Nevada Driving Record Point Reduction
The DMV will inform you when you have accumulated at least three points on your Nevada driving record. This notice will recommend that you complete a Nevada traffic school program for a point reduction. Successful completion of one of these courses will remove three points from your record. This can be done once every 12 months. If you are unsure if you are eligible for a point reduction, contact your Local DMV office.
Nevada Court Plea-Bargain Agreements
In certain circumstances, a Nevada court or judge may offer a driver a plea-bargain agreement that required completion of a traffic school program. The driver is then required to complete a DMV Approved Nevada traffic school online or classroom course. Drivers who complete a traffic school course for court purposes will not receive a point reduction.
Nevada Auto Insurance Reduction
Many Nevada auto insurance providers offer discounts to drivers who have completed a Nevada traffic school program. Since these courses teach driving safety skills, insurance agents are glad when their clients complete one. The skills learned will help prevent future accidents and citations, which is great news for auto insurance providers. Contact your insurance provider to see if you qualify for a discount.
What Topics are Covered in Nevada Traffic School Courses?
Whether you take Nevada traffic school online or in a classroom, you will learn all of the skills and Tips you'll need to improve your safety on the road. The topics covered include: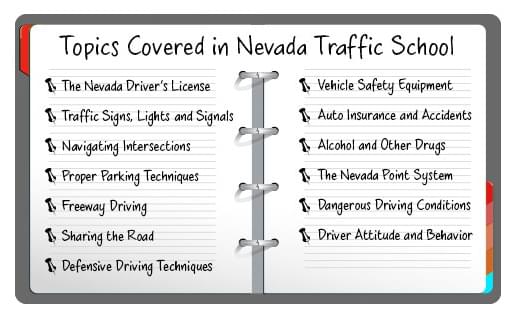 How Does Nevada Traffic School Online Work?
In recent years, the most popular way to complete traffic school in Nevada has changed from the traditional classroom format to the modern and convenient online option. While the process for the two options is similar, the online format is much more suitable for anyone with busy lifestyle. There are only three easy Steps to complete our Nevada traffic school online:
Enroll using the easy online form or by Contacting us to have a friendly customer service agent set you up.
Work through the course by reading through the short, multimedia enhanced chapters and answering the Easy, open-book, multiple-choice quizzes at your own Pace. You'll have unlimited chances to pass everything.
Submit your completion Certificate to the proper entity. Depending on your purpose for taking the course, we may even take care of submitting it for you!
How Do You Start a Nevada Traffic School Online Course?
Getting started is simple; just hit the "Register" button below and you'll be able access the course immediately. Completing the program online is quick and easy for everyone. The user-friendly interface is simple to use for all levels of computer users and the freedom to work at your own pace makes the course perfect for all schedules. What more could you ask for? Start now!